Damon Howatt Savannah Stealth Longbow - Sauquoit
Posted July 27th, 2021 - 7:40pm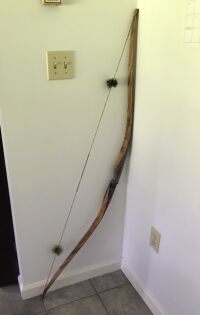 click photo
to enlarge
Contact information:
Phone: 3152695101
Email: Nanci7@roadrunner.com
Price
$600
45 lbs. 62" right handed longbow. When you're bowhunting you want a bow that's as stealthy as the game you're hunting. The Stealth Longbow is just such a bow. The smooth, silent draw gives you an extra advantage over wary game. Featuring various shades of dark woods & accents this longbow allows you to blend into the shadows. The Stealth is made from black-stained laminated Hemlock with a Zebrawood laminate. It also features a reflex/deflex design that makes it very smooth to draw & allows for no shock on the shot.