Your Source for Everything Archery in Central NY
Welcome to CNY Archery!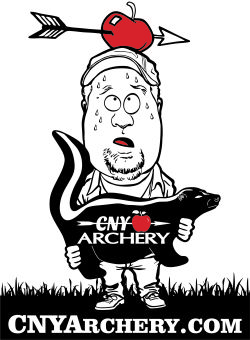 Welcome to CNY archery, your source for all things archery in central NY and the surrounding area. I would like to thank George from Tollgate archery for his many years of connecting the archery community and providing us with scores and information through his website. This website Is my attempt to continue the task as George has now retired and relocated.
This website will provide the shooting schedule for the season, cancellations, local weather, Scores, benefit shoots, an archery swap sheet and more. But I can not do it without the help from the public so please click here to send me any information you want shared or communicated.
My goal is to keep everyone in the archery community informed, connected and supportive of the sport. Please help me to make that possible. Check back often and keep in touch!
What's Happening in the Next 30 Days:
There are no events in the database at this time. Please check back soon.
Latest News
9/27/21 - 9:33pm

Well, the 2021 3D season has come to an end. I just received scores from Cassety Hollow, Sher's She Shed and Richfield Springs. Stay tuned for any indoor shoot, or updates for the 2022 3D schedule.
I have a feeling the the local archery is getting back to where it once was. In recent years, we have seen a slow and steady decline of shooters and clubs. You can't have the shoots, without the shooters. This year has shown a bit of an up swing and I expect that to continue. I have a few bits of information that I can share now, and hope to have more as things get finalized,
This year saw the return of Beaver Valley in Brookfield, they had 2 shoots this year to get back in the game and will be on the schedule as a normal monthly shoot for next year. Mohawk fish and game club has also reached out to me, and they also plan to get on the schedule next year. That is GREAT news, I can finally announce that we as a local community will be adding clubs and shoots for 2022. The Cherry Valley Games will be hosting a shoot, with some great prizes for a one time event next year. Stay tuned for more exciting news. Good luck to all the hunters, shoot straight and be safe!!